Welcome to FaceGym. We're the OGs in facial fitness and we're renowned for raising eyebrows but not in the way you might expect… Think you've seen it all? You've never seen anything like this.
The face is made up of over 40 muscles and just like we work out our body in the gym, we can train the muscles in our faces too. At FaceGym, we combine legendary collagen-boosting studio workouts, with award-winning skincare and advanced technology tools to boost your collagen levels and lift, sculpt, tighten and brighten the skin and facial muscles like never before. Whether you're working out in the studio or at home, we guarantee to deliver results in real time.
So, what is a FaceGym workout? Our unique methodology uses signature exercise moves like knuckling, pinching, hooks and whipping to train your facial muscles, conditioning and strengthening them to support the skin that sits on top. These techniques, together with our own results-driven skincare and tools help to encourage collagen production, stimulate blood circulation, boost the lymphatic system, release tension and increase cell renewal to improve overall skin and muscle health.
Established in 2014, we've already been had over 250,000 faces in our hands around the world. With 13 global studio locations in London, Manchester, New York, Los Angeles and Sydney, Australia we're here to help you workout anytime, anywhere.
Our mission is to help you transform your skin and give you ultimate skin confidence. Like a personal face trainer in your pocket, we'll guide you every step of the way. No one else can do what we do and that's why we're confident that whatever your skin goals, we can help you smash them.
Ready to join the community? Let's do it!
BOOK STUDIO WORKOUT
SHOP SKINCARE & TOOLS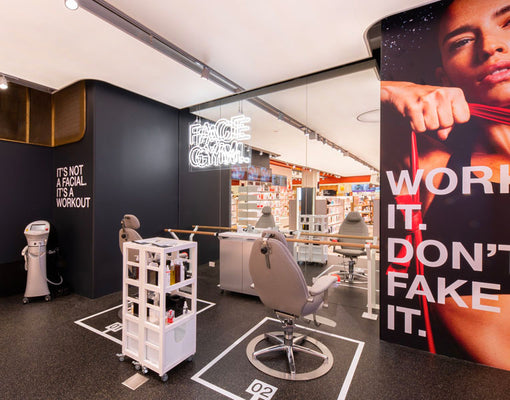 MEET THE FOUNDER: INGE THERON
"FaceGym is a confidence-boosting business! We start from a place that says YOU ARE GREAT and we take that great version of you and just amplify it, making you the absolute best version of yourself."
Founder and Creative Director of FACEGYM, Inge Theron is a woman on a mission to educate a generation on skin metabolism and facial fitness. As a disruptive female entrepreneur, Inge has created a revolutionary, first-to-market concept with the world's first gym for the face.
Previously a beauty and wellness columnist for the Financial Times, Inge became known as the 'Spa Junkie' and spent over ten years testing the latest high-end aesthetics, fitness, and nutrition treatments. These often-invasive procedures left Inge suffering the impact of injectable abuse and when one particular face-lifting procedure left her housebound, she realised enough was enough, and decided there must be a better way to age confidently and gracefully. Channelling all of her extensive research and knowledge, Inge set to creating a concept all of her own. And the rest is FaceGym history. 
Follow Inge @ingetheron76
FOLLOW INGE